Join Us @ 2023 ASRM Scientific Congress & Expo – New Orleans, Louisiana
September 28, 2023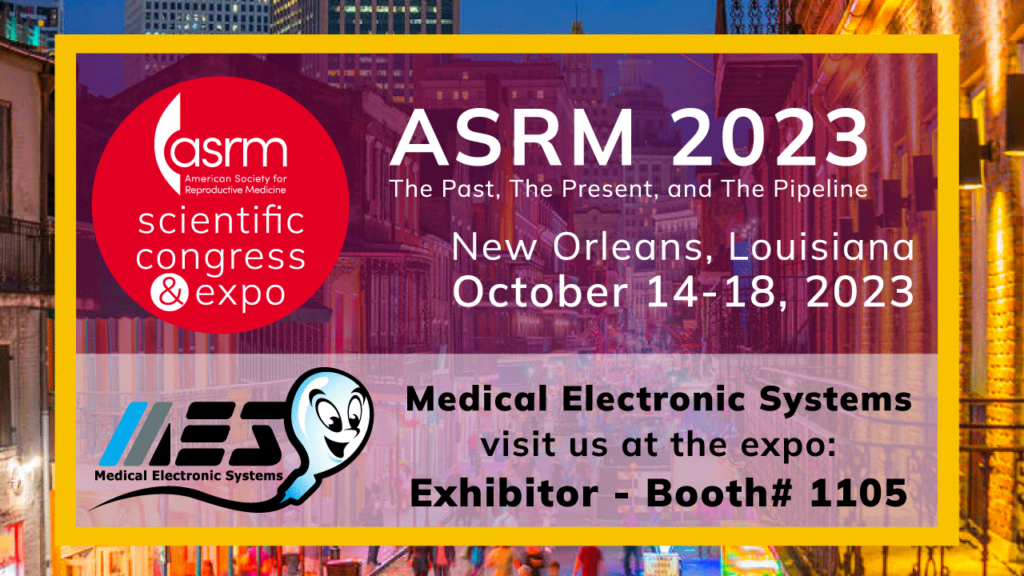 Join Medical Electronic Systems at the 2023 ASRM Scientific Congress and Expo in New Orleans, Louisiana. 
October 16th through 18th (Monday through Wednesday).  BOOTH 1105
MES will be present to showcase our newly FDA-Cleared SQA-iO, WHO 6th Edition SQA-Vision Automated Sperm Quality Analyzer, Semi-Automated DNA Fragmentation, new Semen Analysis Test Kits, and YO Home Sperm Test Kit.  Swing by the booth to have an exchange and check out our 2023 product line.
Please Contact Us to schedule a Demonstration at the Expo.
Remember, it All Started with a Sperm! Medical Electronic Systems is a Los Angeles-based technology company specializing in rapid, automated semen analysis for the laboratory, veterinary, and at-home markets. The MES line of CE and FDA-approved Sperm Quality Analyzers, YO Home Sperm Test Kits, and complimentary testing supplies are sold through an extensive network of international distributors. MES is ISO certified as a medical manufacturer and has distribution offices in America, Europe, Asia, and Israel. From The Laboratory to the Living Room, Medical Electronic Systems provides Automated Semen Analysis solutions to check the swimmers. Please swing by our booth to learn more and pick up a souvenir. And Remember, it ALL Started with a Sperm!
Booth 1105.  We look forward to seeing you there!